7kW On Grid Solar Panel System Price in Gurgaon Delhi Noida Ghaziabad Faridabad India
The solar panel industry is one of the thriving industries throughout the world. As a result, we can observe continuous innovation in the on-grid solar systems. One example of this innovation is the 7kW on grid solar system which suits the best to properties with more power requirements such as,
Large offices
Multi-Storey Commercial Buildings
Retail Shops
Large workshops
School buildings
Medical shops
The use of solar energy to operate machinery in large buildings saves the government electricity. A 7kW on grid solar system can produce approximately 50kwh in a day.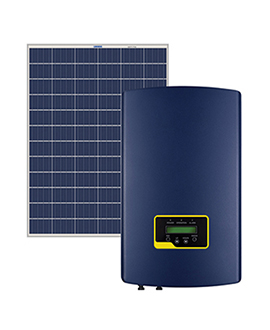 An on-grid solar system comes with an attached grid known as a utility grid that stores the alternating current converted by the solar inverter. The grid further supplies power to run a household or commercial appliances and machinery.  On-grid solar panels work throughout the day using solar energy. At night, it uses the saved energy on the utility grid. If you face power cut issues at night, choose an off-grid solar system. A 7 kW off-grid solar system 7kW solar system does not use batteries to save excess energy. The batteries come with a capacity to store 18 kW of electricity. So, you can choose the way best suitable for you. Along with this, on-grid systems use the net metering technique to record over and under consumption of solar power. This record helps to claim a refund or adjust it in future bills. 7kW solar system is an asset for you in the following  situations
When you suffer from high electricity bills.
When there is a high power cut in your area.
When your house is in a place that receives enough sunlight.
It acts as a blessing for you and returns the installation cost within some years of usage. It can save up to 11kW per month. Everything is perfect, but how will you choose the best 7 kW solar system for your building? ARC renewable is the answer. ARC renewables is a highly growing solar panel EPC company that offers customized solar system solutions. We make solutions that are easy to understand and support you throughout and after the installation process. Our dedicated team remains there to assist you at your pace. First, we hear your concern and then offer advice from our experts. At ARC renewables, we leave no stone unturned to design the perfect solution for you. Our team leaves no space for mistakes. Let's get back to the subject! The 7 kW solar system is available in three categories
Types of 7kW Solar System
The 7kW solar system is available in three different types: On grid, Off-grid and Hybrid. All of the above solar systems run using solar energy, but their cost differs according to their type, company and features. Mostly, they cost between 4 lakhs to 7 lakhs. The cost includes the cost of solar panels, solar inverters, batteries, and other components. Not all 7 kW solar systems use batteries but only off-grid and hybrid solar systems. The cost increases when you move from a 7kW on grid solar system to an off-grid and Hybrid one.
Here is the brief of three types of 7 kW solar system
7kW on grid solar system-: On-grid solar system relies on the utility grid. Solar panels trap solar energy and generate a direct current. After that, the solar inverter turns the direct current into alternating current. The solar inverter further sends the alternating current to the utility grid. The grid supplies it to run the household appliances. Along with this, a 7 kW on grid solar system consists of a net meter that records energy production and consumption. You get monthly bills in this system.
7kW Off grid solar system-: Off-grid solar system also traps solar energy and follows the same process as 7kW on grid solar system. However, this system does not use a grid for excess power storage. It uses batteries for unused power storage. The off-grid solar system is expensive but offers uninterrupted service even when the grid is down. It is the best option for places to whom sunlight is a concern. A 7 kW off-grid solar system includes no bills.
7kW Hybrid Solar System-: Its name says its meaning. The hybrid solar system consists of all features of both an on-grid and off-grid solar system. That is the reason why it cost the highest of all.
So, we can see that all three solar systems have their pros and cons.  A 7kW on grid solar system costs you less, but it may trouble you when the grid is down or when there is no sunlight.  In that case, hybrid and off-grid solar systems are the best options. They cost high but offer you the best services. You get the benefit of net metering and subsidy in the case of on-grid and hybrid solar systems but not off-grid. So consider all the above facts and take a wise decision. If you find it difficult, we are always here to guide you. We believe that only a real partner can serve you the best. We take care of everything from rooftop space surveys, designing solar panels to installation.
Specification of 7kW On Grid Solar System
| | |
| --- | --- |
| Particulars | Description |
| Solar Power Plant |  7 kW |
| Solar Panel in Watt |  335 watt |
| Solar Panel Quantity | 21 Nos. |
| Solar Panel Type | Poly or Mono |
| Solar Inverter Type | On-Grid |
| On-Grid Solar Inverter(capacity) | 10 kW 3P |
| MC4 Connectors | 10 pairs |
| Space required | 50 to 60 Sq Yards |
| AC Cable | 20 Mtr |
| Space required |  100 sq feet |
| On-grid solar panel efficiency | under 19 per cent |
| Solar Cells Quantity | 72 Cells |
| Solar Inverter Efficiency | 97 per cent |
| Solar System Warranty | 5 years(overall) and  25 years(on solar panels) |
| Solar Inverter Warranty | 10 Years |
| DC Cable Length | 30 meter |
| AC Cable Length | 40 meter |
| Delivery Time | 3 Days( from order) |
| Installation Time | 3 Days (from delivery) |
| Other Accessories: | Fasteners, crimper, Cable zip, earthing |
| Net metering option | Available |
| Subsidy from Government | Available up to 30 per cent |
7kW On Grid Solar System Price in Gurgaon India
Top Solar Brands to choose From
Get a Free Consultation, Call us