3kW On Grid Solar Panel System Price in Gurgaon Delhi Noida Ghaziabad Faridabad India
As a leading solar panel EPC company, ARC renewables offer a 3kW on grid solar system to its clients. We have always amazed people with our innovative solutions and will continue the same in future. 
A 3 kW on grid solar system is a tool that comes attached to a utility grid and converts solar energy into electrical energy. Utility grid stores energy generated by the solar panels and use it in household utilities. Whether you use our 2kW on grid solar system or 3kW on grid solar panel, both are effortless to maintain. An on-grid solar power plant comes with a tool known as a net meter. That tool measures the solar energy transferred to the utility grid and calculates unconsumed energy. Further, the net meter helps to get credit for unconsumed energy from the government. Users get all the details in the monthly bill. On-grid solar panels convert the sunlight into DC(direct current). Further, it connects to an on-grid solar inverter that converts the DC to AC(alternating current). It is an alternating current that helps in running household appliances. Once the solar inverter converts DC into AC, it stores in the utility grid. Further utility grid transfers the required energy on and off throughout the day. If you find a 3kW on-grid price solar system at a reasonable price, then it is the best option for you.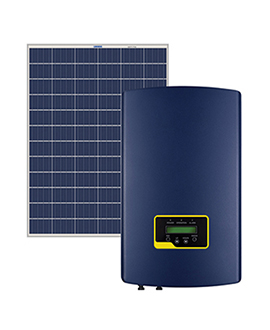 Types of 3kW Solar system
The use of solar panels has gained recognition with time. That brings its many types into existence. Here are three common types of 3kW solar systems present in the market.
All of them run on the same PV(photovoltaic) rules. It is their features and elements that make them differ. Let us understand what those types of 3kW solar systems are.
On-Grid Solar System-: On-grid solar power plant works in connection with the utility grid. This solar system stores the energy on the grid and is further used to run electrical appliances. The net-metering approach applies to on-grid solar systems to receive credit from the government for unconsumed energy. It is not a good option for places that expect less sunlight.
Off-Grid Solar System.-: Off-grid solar system uses batteries to store excess energy. The user does not receive a bill, and it does not use a net metering approach. It is a good option for places that expect less sunlight. It can be expensive as it involves the cost of batteries.
Hybrid Solar System-: Hybrid solar system is a perfect mix of both on-grid and off-grid solar panels. It consists of all the features of on-grid and off-grid solar panels.
Specifications of 3kW On grid Solar System
| | |
| --- | --- |
| Particulars | Description |
| On-grid solar Panel | 335 Watt |
| On-grid solar panel(Qty) | 9 Nos. |
| On-grid solar power types | Mono/Poly |
| Solar panel efficiency | Under 19 per cent |
| Solar panel warranty | 25 Years |
| On-grid solar inverter | 3 KW |
| Solar inverter warranty | 2 years |
| Inverter Type | On-Grid solar inverter |
| On-grid solar inverter efficiency | 97% |
| Space required |  100 sq feet |
| MC4 Connectors | 2 Pairs |
| DC Cable | 30 Meter |
| AC Cable | 20 Meter |
| Other components | Screw, nut, bolts, Cable zip, crimper, earthing tool etc. |
| AC Junction Box | 1 Nos |
| DC Junction Box                                   | 1 Nos |
How On-grid Solar Power Plant Works?
Generating electrical energy from sunlight is a step by step process. Solar panels' extraordinary design make them supply eco-friendly energy to your home. Here is the process that solar power plants follow:
We fix the 3kW on grid solar panels on the rooftop, where they get enough sunlight. Those solar panels generate direct current by trapping sunlight.
The next solar inverter connected to solar panels converts the DC into AC.
On conversion, residents can use that energy to run household appliances. That energy is also known as clean energy as it does not harm the environment and your health.
3 kW on grid solar panel consist of a net meter that records the unconsumed energy stored in the utility grid. The government will either give you a refund or adjust it in future bills.
Solar Energy comes down to zero at night, and the grid sends the excess energy to the government. The government keeps a check on the consumption of energy.
This process continues every day. In case of excess power consumption, the government asks for additional payment. So on-grid solar panels have many benefits, and it is worth the money.
Merits of 3kW On Grid Solar System
Minimize the electricity bills
Eligible for a subsidy from the government
Require less maintenance
It is eco-friendly.
It does not require a battery to store energy.
It is a reliable tool to generate energy for home appliances
It offers clean energy.
Drawbacks of 3 kW On Grid Solar System
It does not use a battery. So in case the grid is down, you may fall short of electricity.
You receive monthly bills in it.
It may not be a good option for places with less sunlight and more rainy days.
It requires an installation area.
3kW Solar Inverter Solution-: For Standard Inverter
Most people believe that a solar inverter is necessary to complete the on-grid solar system for homes. But this is not the complete truth. With advanced technologies, our team can turn your inverter into a solar inverter. So, you do not need to spend on buying a new solar inverter. The advanced technology is known as the solar conversion kit. It offers a budget-friendly and energy-efficient way of living. So, stop worrying that you can not use solar panels with a standard inverter at your home.
Utility of 3kW On Grid Solar System
A 3 kW on-grid solar system suits the best when you search for a solar panel for a
Residential property
Commercial building
Or a separate house
Installing on-grid solar panels on rooftops help to get clean energy from the sun to run the necessary appliances. All the appliances such as TV, Refrigerator, AC, fans, and others can operate through solar energy. A 3kW on-grid solar system consists of 9 solar panels. These solar panels can generate approx 12 units of energy per day.
Frequently Asked Questions
3KW On-Grid Solar System Price in Gurgaon India
Top Solar Brands to choose From
Get a Free Consultation, Call us